Steve Buscemi|Simon Russell Beale|Jeffrey Tambor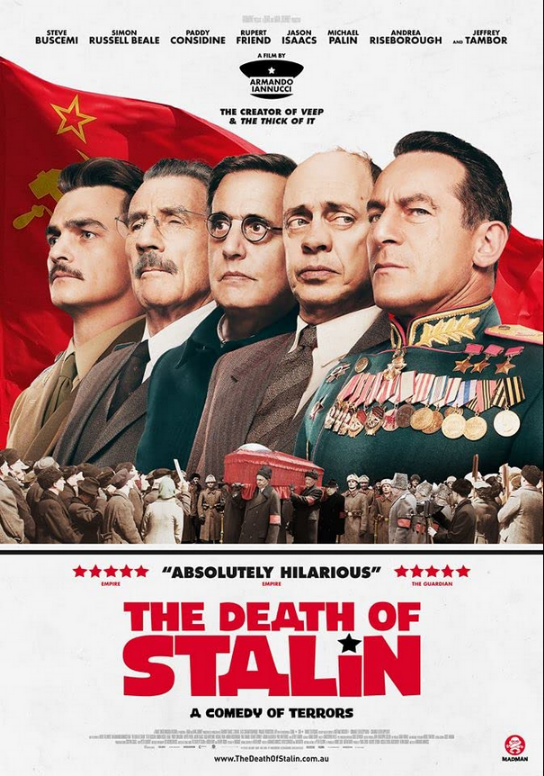 THE DEATH OF STALIN was a huge box-office success following its first release in October 2017. It grossed about US$7m in the UK and has clocked up almost US$25m worldwide. It featured heavily in the BAFTA nominations for that year and won several of the awards. All of which means that you've probably seen this film already. If so, you know it's very good, very funny, and well worth another outing.
It's directed by Armando Iannucci, creator of In the Thick of It, and it has a fine cast, with even many of the minor characters played by big names.
Why show this film now? Well, it does seem strangely apposite. It was banned in Russia, of course. The comments made at the time are instructive and almost surreal in a present-day context:
In September 2017 the head of the Public Council of the Russian Ministry of Culture said Russian authorities were considering a ban on the film, alleging the film could be part of a "western plot to destabilise Russia by causing rifts in society".
The Communist Party of the Russian Federation called the film "revolting".
Alexander Yushchenko, a spokesman for the party, said the film was an attempt to spark discontent.
Nikolai Starikov, head of the Russian Great Fatherland Party, said The Death of Stalin was an "unfriendly act by the British intellectual class" and part of an "anti-Russian information war".
Russian online newspaper Vzglyad called the movie "a nasty sendup by outsiders who know nothing of our history".
References were also made to historical inaccuracies in the film. There are some, of course. But since when was historical accuracy important?
10 May 2022
TUESDAY
19:30